SAtelier is a custom software development firm established in 1993, with our main office located in Belo Horizonte, Minas Gerais, Brazil.
Our primary products are turn-key contractual solutions and bespoke software developed, in both dotNet and Win32/64 plataforms, for MS Windows — Desktop, Phone and Compact editions.
Occasionally, during product design and study, a researched area is converted into a freeware, some of the most popular are: AdoBox, SpidEye, SA_SetDate and oGif, which are described below.
Freewares
---
TrueFree
No trial • No upgrade • No Ad • No banner • No spam − just free.
AdoBox 1.0.0
The ADO Connection Utility Box
AdoBox is freeware that allows you to create and edit ADO String Connection, send commands and queries to a server, retrieve resultsets, edit cells, save tabular data (csv, xml, adtg) and operate on Blob fields.
Click here for more information and download.
SpidEye 1.0.0
The HTML Browser for Web Masters
SpidEye is a 5 stars "Spectacular" CNET Editor's Rating, tiny, portable HTML browser that assist web master on the design of their web pages for Web Crawlers.
Click here for more information and download.
SA SetDate 1.0.0
SAtelier's set file date and time
SA_setDate is a free utility that allows changing creation, modification and access date and time of one or several files. It also can synchronize the files time with an application's version. Installer and uninstaller included. We use sa_setDate to release our on software, we hope is helpful for you to.
|
| Windows 7, Vista, XP, 2K, 9x | 256 KB
oGif 2.0.0
Free image viewer and bitmap encryptor
oGif is our most popular freeware. It is a tiny, portable image viewer. Current version was released in February 2007 and was first published June/2002.
Information in español or português.
---
Download
You can download it from:
www.download.com


http://www.softpedia.com


www.satelier.com.br

Windows Installer Package (msi, 583 KB)
Zipped File (zip, 396 KB)
Installation is very simple, and no modification of Windows® Registry is done unless a file extension association is required by the user. An uninstaller is included within the msi file. If you selected the zipped version, just drop the files in a convenient folder.
---
Features
•
Portable
No installation necessary.
Can run on USB -Flashdrive / Stick / Pen.
Make no entries to the registry (unless a file extension association is required by the user)
Leave no data on the guest computer.
•
Tiny
Executable file is 403 KB (that's smaller than a typical camera photo).
No DLLs.
•
Encrypts bitmaps
Bitmap images can be encrypted, scrambling pixels with a password. But be aware, there is no way to recover a lost password.
•
Caches
Up to 20 images can be hold in RAM, caching visualization so you can quickly compare huge images.
•
Converts
Saves smaller copies, with different resolutions and sizes for easy e-mail manipulation.
•
File formats
It supports all major graphic formats including:

Bitmap BMP
Scrambled Bitmap
JPEG, with access to EXIF info
Animated GIF
Portable Network Graphics, PNG
Metafile, WMF

•
Organize
While you traverse images on a folder, you can send copies to an other predefined folder.
•
Controls
Control animated gif images presentation speed or see it frame by frame.
•
Multilanguage
Available in Portuguese, Spanish, Italian, Serbian (Srpski, latinica)... send yours!
---
Screenshot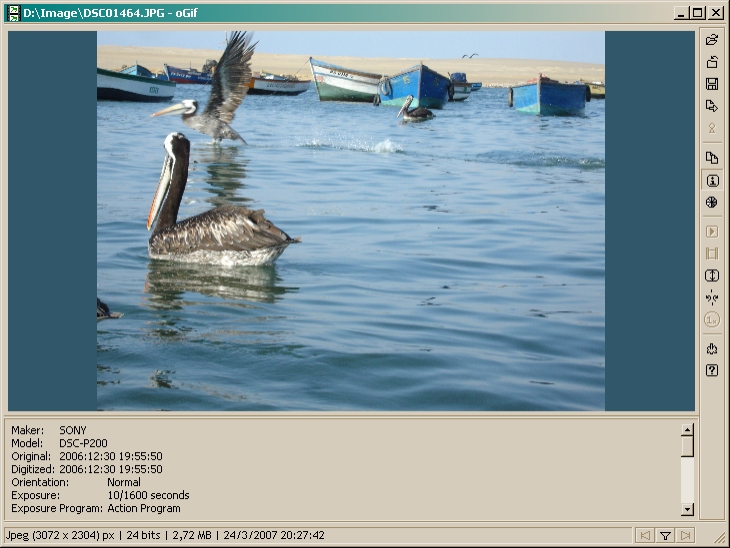 Click to enlarge
---
Contact
Please send your language file, feature request or bug report by
e-mail
. We will do our best to answer you inquire.